If you don't already have an excellent apartment rental application… I've got a free one right
here for you!
I recently had to rent out one of my units… and a few circumstances from the last tenants made me go back and revise my apartment rental application to make it a bit tighter… and to better suit my needs.
My prior rental application form was a 1 page form with no instruction page. I found myself forgetting my screening policies and having to explain over and over to prospective tenants what our screening policies are… and what to expect.
I know, I'm the one who always preaches creating systems in your real estate investing business…
Hey… my mistake. I hadn't really ever had much of a problem with my old application… so I didn't feel it was a huge need to revise it.
But, you'll see after you download this free rental application that it is pretty comprehensive and does the job.
** Here's my effort at a legal disclosure **
Before you download this and plug it into your business, be sure to pass it by your real estate attorney to make sure it applies to your state. I am using this form in Oregon and it has been successfully used by a property management firm here in Oregon. So, be sure to verify that it works in your area… I'm not guaranteeing you anything at all with this form… it's free… and use it at your own risk.
Okay, with that over… go ahead and download the form and use it as you wish.
What does this free real estate rental application form include:
1 page application screening disclosure – describes the screening process… so you'll have to customize it to fit your needs

2 page rental application with several qualifying questions – be sure to check all aspects of the application with your attorney before using
I've put it in Microsoft Word format so you can customize it as you please.
Enjoy!
Dowload Instructions:
Right click on the download link below

Click "Save As" or "Save Target As"

Save it to your computer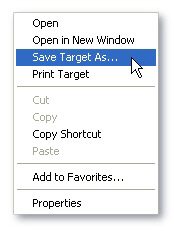 >>> FREE RENTAL APPLICATION FORM <<< (word doc)
>>> FREE RENTAL APPLICATION FORM <<< (pdf)
If you have real estate or business related documents for forms that you'd like to share with everyone… feel free to email them to me through the contact info on our contact page.
If you enjoyed this article, get email updates (it's free).
Here's A Few Related Articles...