I hope you had an excellent weekend!  I watched my wife's cousins play a couple basketball
games (they are in 1st and 5th grade)… man, just watching them playing really brought back great memories from when I was a kid. 
Wouldn't it be great to be able to just go out and have fun everyday?
Oops… that's what I do now!  And that's what you should be doing too!  Life's too short to do something you don't truly love doing for 8 hours a day.
Anyhow, back on track.
Over the weekend I was reading an ebook by Preston Ely (the self proclaimed King of Wholesaling) called "Flip Your Way to Financial Freedom: The Art of Wholesaling Houses for Quick Cash".
I told you a few weeks back that a few readers wanted my honest opinion on the ebook before they bought it…. which I'll probably write up next week.
Well… when I was reading his ebook (one of the most to the point real estate books I've ever read… no crappy filler and fluffy stuff), my pen was working overtime writing down the ideas and resources he uses in his real estate wholesaling business.
One great resource I found that Preston uses everyday is a website called:
If you've never been there, check it out.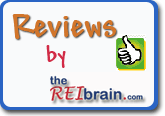 Real Quest is a tool that helps you determine real estate values, find recent sales (the same databases appraisers use), find property owner addresses, find landlords, foreclosures and pre-foreclosures, auctions, and on and on.
Their website says that it is "Used by 9 of the top 10 lending institutions"… which says a lot about the confidence these lenders have in the accuracy of the property values.
Everyone is familiar with Zillow (www.zillow.com)… and by now, if you are in the real estate industry you know that Zillow doesn't put out very accurate values.  In fact, their values are usually WAY LOW… which means that if you use Zillow's values to analyze a deal… you'll likely pass up deals that are actually profitable.
Well, according to Preston and a bunch of other people I've talked to, Real Quest puts out values that are much more accurate than Zillow… and can actually be relied on when analyzing deals or finding information on a property.
Another big difference is that Real Quest has information on over 114 million properties… to Zillow's 80+ million.
Here are the big differences between Zillow and Real Quest:
Zillow is completely free… while Real Quest gives you property values for free… but charges something like $4.99 for more in-depth property information (well worth it if you ask me).
Zillow is more of a novelty (to me anyway), while Real Quest is for the real estate professional looking for good quality and accurate real estate property information.
Real Quest is a much more comprehensive resource for real estate investors and real estate professionals.  To me, it is a great resource for finding the owners of properties I am looking at buying so I can market to them or give them a call.
Anyhow, you can take my little review of www.realquest.com for what it's worth.  I think it's an awesome resource that you can use in your real estate investing business to get accurate property values/comps/property information/foreclosures/etc.  
Preston uses www.realquest.com to evaluate his properties every day… and he is one of the largest real estate wholesalers in Florida. 
So, my take on www.realquest.com is that it is worth bookmarking and plugging in to your process map as a way to quickly and cheaply find property information and property values.  Of course, if you can buddy up with an appraiser in your area and pay him something like $15 or $25 for a comp report… that is another option as well. 
Either way, use something accurate (not Zillow… or your gut feeling) to determine property values before you go out and make a billion offers.
If you have any other cool tools or resources like this that you use for your real estate investing business… feel free to shoot them my way.  I'm always out to learn about new tools that can help me and you grow our real estate investing businesses.
If you enjoyed this article, get email updates (it's free).
Here's A Few Related Articles...