Hey, I hope 2008 is going great so far! This year should be a great year to buy up a bunch of property below market value. That's my goal this year!
Anyhow…
Last week we reviewed Quicken Rental Property Management 2.5 (we have a new Quicken Rental Property Manager 2010 review up now) software for a couple readers who emailed me asking about our thoughts on rental property management softwares. Check our our review of Quicken through that link above (and a $30 coupon for Quicken Rental Property Management 2009 if you like it)
In my opinion, Quicken Rental Property Management 2009 is excellent for people with less than 20 units. It just doesn't have enough features for me… for more than 20 units.
So…
This week, I thought I should review a couple rental property management software packages that are more robust and better for those real estate investors or property managers who want to manage more than 20 units.
So, here we go…
Landlord Max Property Rental Management Software – Is it any good??
LandlordMax is a property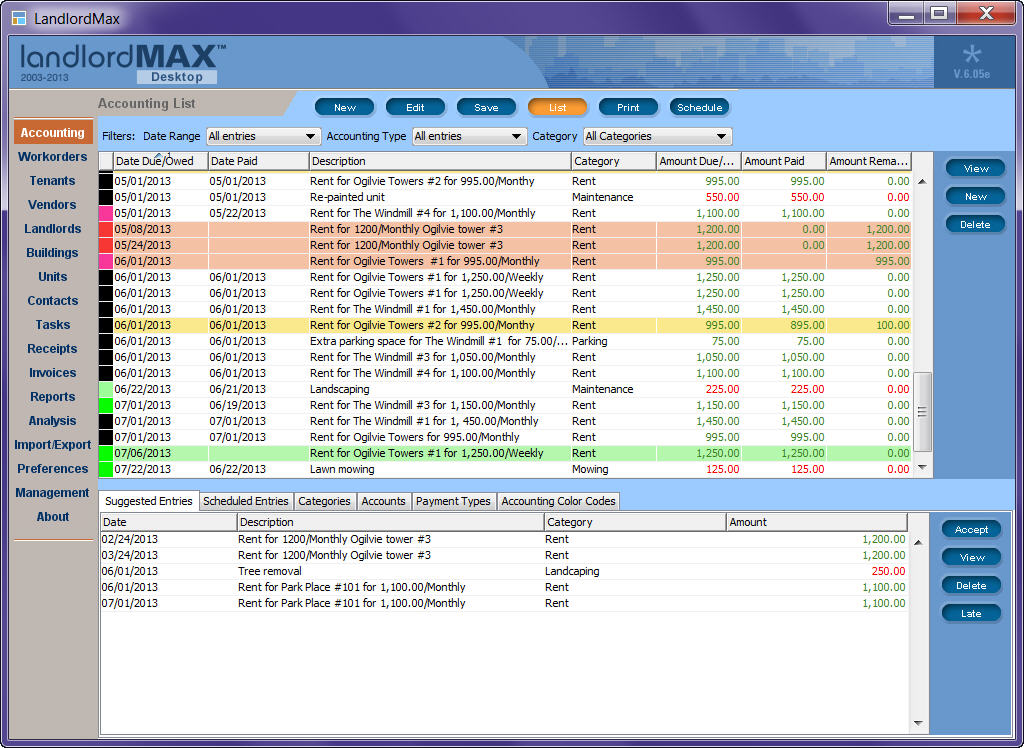 rental management software that is up a level from Quicken . Not that Quicken isn't a great product… it is… but LandlordMax has more features and is overall a more functional and robust system for people that want more than the basic features Quicken offers .
The price point of Landlord Max is $147 . Compared to Quicken this is about $60 more… but as you'll find in the video below… it may be well worth it (I'm actually switching over to LandlordMax).
Also, we've decided to throw in our package of landlord forms (value of about $97) for you if you like LandlordMax and buy it through the links on this page. (just email me your receipt and I'll send you a zip folder packed w/ great landlording forms I use )
I recorded a screen cast of me going through LandlordMax and showing you ALL of the pros and cons of the software. Take a look at it below… there's some great features in this property management software.
(video is just about 20 minutes…. I go in huge detail on the software and what it does)
Click the play button to start video
*If you're having trouble viewing the video above, follow the link below to watch it directly at the video hosting site:
Click Here To View Video If You Can't View It Above <<
Here's the link to get the Free 30 Day Trial <==
—-
"Cliff Notes" Version of My Review on LandlordMax:
Okay, overall I was very impressed with Landlord Max and the product they've put together. By looking at their website they have won a bunch of awards apparently for this software… and I can see why.
Landlord Max is a pretty easy to use software, has a ton of advanced features, can easily manage multiple properties and pretty much as many units as you want, has a ton of great reports… and is priced very reasonably (just $147) for a property rental management software of this caliber.
The Pros:
What I Didn't Like About Landlord Max…
Really… I have a tough time finding a ton of things I don't like about the software . Maybe after I use it everyday for a couple months I may come up with a few features that bug me… or that I would like to see… but after going through it really in-depth today… I am extremely pleased with LandlordMax .
My Overall Impression of LandlordMax Property Rental Management Software??
I'm actually pretty impressed with LandlordMax. Going into it for some reason I didn't have big expectations. But, once I got the free 30 day trial… dug into it… and saw what it can do… I can't think of a whole lot bad to say about it.
For me, this software is a good hybrid between a commercial rental property management software (ones for $500+ for property management companies) and Quicken (which is an excellent and simple software for people with less than 20 units).
You get the lower price of a consumer property management software… with most of the advanced features of a $500+ commercial property management software.
I think this software is great for people with 10 to 100+ units . It can easily handle multiple properties and multiple landlords (or owners), provide advanced reporting, and make it easy to track detailed information on all aspects of the investment.
How Do I Grade It? (out of 5)
Design:




4
Affordability:




4
Features:





5
Ease of Use :




4
Overall (10-100+ units):




(and a half) 4.5
In my opinion, if you're looking for a property rental management software to manage your portfolio of real estate between 10 and 100+ units… I really like this software to do that. I am actually going to be switching over to LandlordMax to manage my properties sometime this month.
So, that's it for our second review of rental property management software . Our first review was for:
Or, check out this newer review of a great software package that actually earned our highest rating to date (as of June 2008)
If you are interested in taking LandlordMax up on their Free 30 Day Trial, click the link below and download the Free Trial (fully functional software).
Or, if you are ready to buy LandlordMax, click the link below. Remember, when you buy through our links, send me your receipt and I'll send you our entire package of landlord / property management forms and documents for your business (worth $97). These forms aren't on our site… this is the only you can get them.
(I'll be reviewing another property management software package or two over the next few weeks. Keep tuned… and subscribe to our RSS Feed .)
—
Note: Here at The REI Brain dot com we are dedicated to providing you with great free content, resources, training, and product reviews. All of this is not cheap for us to do and we've got to pay the bills… so, if you find a product or recommendation or review of a product on our website or in our emails we likely do earn a revenue when our visitors purchase the product/service/program through the links on our website. That is a great way that we've found to help pay for our expenses and to continue providing you with great content for free. However, with that said… we are *never* going to sell out to make a quick buck and feel very strongly that every product we introduce you to or that we recommend in a review is truly a great product, at a great value, that we have personally reviewed prior to any recommendation or review. Out of every product we do recommend, there are over 20 that we look at that we feel are not worthy of our recommendation to our valued readers.
If you enjoyed this article, get email updates (it's free).
Here's A Few Related Articles...