Realty Mogul is a marketplace for accredited investors to pool money online and buy shares of real property like single family homes, office buildings, apartment buildings and retail centers; it is crowd funding for real estate. For accredited investors, Realty Mogul gives them tools to browse investments, do due diligence, invest online and have 24/7 access to an investor dashboard to watch how their investments are performing. Realty Mogul partners with private real estate companies to source quality deal flow and curates all the investments. For these real estate companies, they have access to a broader capital pool and tools to do investor reporting, investor communication and distributions.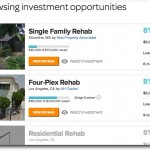 They just launched very recently and actually have over 1,000 accredited investors who are already working with them, have funded three transactions to date and are in progress on their 4th transaction. Realty Mogul has also been featured in publications like Forbes, Wall Street Journal, Tech Crunch, Los Angeles Business Journal, Seattle Times, Globe St. and American Express.
As for the transactions they are funding, they fund both loans secured by residential real estate and equity investments into commercial real estate like apartment buildings or retail centers. They are actively looking for more operating partners who are acquiring real estate and looking for more investors. The common trait across all of their investments is cash flow. They don't fund ground up development and are looking to provide investors with cash distributions in the first or second quarter after investing in a property. This works well with loans that pay interest consistently and also works well for properties that have existing tenants and cash-flow but also have some element of value-add.
I am not getting paid a dime to tell you about this but you can see this is a killer new resource to keep your eye on.
So, go check it out… if you're an accredited investor… sign up to see the current deals that are available to fund.
If you're an investor looking for funding… connect with them and start the process of getting your
company pre-vetted to send them deals to put in their marketplace.