Share your story –  Win an REI Brain PRO membership (+more)
Rules:
1.  To enter, type your crazy story into the comment box below
2. The deadline to enter will be by Tuesday, August 10 at 11:59 PM (PST)
3.  Winners will be judged by me and the REI Brain Faculty based on the following criteria:
Tenant Crazyness Factor (the crazyier the better!)
Story length (keep it under 500 words if possible)… or under 5 minutes if its a video
Creativity-  Videos are encouraged and you get brownie points :-).  If you make a video, keep it between 3-5 minutes, upload it to YouTube and put "REI Brain Craziest Tenant Story Contest" in the description, as well as the following link:  http://www.thereibrain.com/rei-brain-craziest-tenant-story-contest/.    Then copy and paste your YouTube link into the comment box below.
Have fun!!!
Prizes: (winners announced below!)
NOTE: Thanks for all of the great Crazy Tenant Stories guys and gals!  Wow… there were some doosies… and I'm knocking on wood as I type this so I don't get any of that bad luck passed my way 🙂 Alrighty, it was tough… but, the winners are announced below.  Thanks for participating and congrats to the winners!
– Trevor
First Place: Winner –
David Dey's

"Marta Gone Crazy!" Story

David, lol… your story about Marta literally "burning down the house" takes the cake for the flat out craziest tenant story I've heard in a long time.  Thanks for sharing the story with us and congrats!!!

The #1 top "Craziest Tenant Story" as voted by Trevor Mauch and the REI Brain Faculty will receive:
1.  1 Full Year Charter Membership to the upcoming REI Brain PRO Members Area ($197 value)
Be the first to access the advanced resources and video trainings that will be made available to REI Brain PRO members very shortly!
2.  "Property Management Accounting: A Survival Guide for Non-Accountants" by Marc Levetin and Michael Monteiro ($10 value)
Every REI should have a copy of this book in their library.  Very handy, especially if accounting makes you cringe : )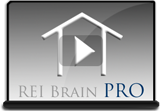 Runner -Up: Winner –
Donna Schultheis'

"Slip n' Slide Tenants" Story

Donna… you're story wasn't extremely crazy… but it sure was funny (from my perspective anyway ;-).  So, congrats on having a pretty darn crazy tenant so you could share it with us all 🙂
The Runner-up  will receive a free copy of "Crush It! Why NOW is the Time to Cash In on Your Passion" by Gary Vaynerchuk  ($13.59 value)
A great read for all involved in business, the internet, and entreprenuership.

Heck, we can be more generous than that…
The first person that leaves their story in the comment box below will also receive a copy of Crush It!
So what are you waiting for?  Tell me, what's your craziest tenant story?