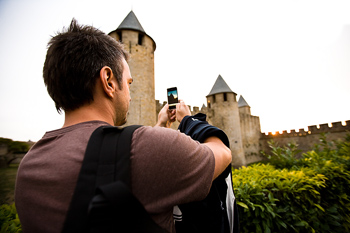 Does your phone have a video camera?
For most tech-savvy investors, the answer is yes.
So why aren't they using the tool they already have to help them make money?
It could be that they're scared. Or busy. Or they're making too much money and they don't feel the need to bother making any changes.
Video is a great way to show off a property. Why drive to show a potential buyer a property that they're not going to buy?
You could just film yourself giving an awesome tour of the property and post it on YouTube, totally free.
Video can be intimidating. It can even feel worse than public speaking, because once your video is online, it's permanent, right?
You can agonize over making your video perfect if you want, but it's only gonna hold you back. It doesn't matter if your video is poor quality, or grainy. What matters is if it makes your property look good.
If you can shoot some reasonably good footage of your property's best features and narrate a nice, pleasant overview of the property's details, you're ready to go.
If that sounds really intimidating, consider hiring a professional videographer to help you stage the property and film it so it looks its best. In most metro areas you can find someone talented who will create a short commercial for a few hundred bucks.
There's a lot of evidence that boosting the quality of your photography will pay off. Showing the best side of the property helps increase anticipation and excitement for good potential buyers.
You'll also save yourself a lot of time by putting up a video of the property. If your video is good enough, you'll give buyers a really great perspective on the property and you won't have to waste time showing it to people who wouldn't buy it.
So if your phone shoots video, spend the time to film a tour of the property when you're selling. Put it on your sales page along with high quality photos, maps and all the details a prospective buyer will need.
You'll waste a lot less time talking to people who won't buy, and you'll make money when you get that full-price offer from buyers who just watched your video.