I remember back probably 15 years ago seeing an infomercial on TV with a young looking "kid" selling a program on how to buy, fix, and resell cars and make money.  He looked like a really energetic guy… then I didn't see anything from him for a while.
Then, a few years later I saw the same guy on TV again… this time selling a book on how to make money in real estate.  Now, you've probably found a few Dean Graziosi reviews online that don't give specifics and are all roses… well… I'm going to give you my entire opinion on Dean and the programs of his that I have personally seen in as much detail as I possibly can.  But…
Frankly… I Immediately Thought Dean Graziosi Was A TV Infomercial "Huckster"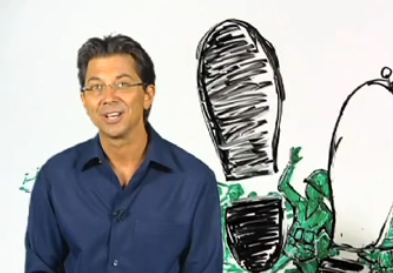 Over the last 5 years or so I've seen Dean Graziosi on TV probably several dozen times… and like I mentioned… definitely a fair bit of skepticism on whether he was the real deal or not. Being in the line of business I'm in… I see a lot of legit and honest real estate trainers and "gurus" and I also see a lot of less ethical guys/gals hocking products that they don't backup, they don't support, and are in it just for the quick money… and who never support their customers or actually deliver and the promise they make… and who never deliver more than they promise.
I've seen literally almost 100 real estate investing products first hand… reviewed a lot of them on this site… and know when the "guru" behind the product actually cares about their customers… or just looks at them as dollar signs.
Anyhow, I was fortunate actually to meet Dean briefly and hear him speak to a small room of people last year.  He wasn't there to sell anything… he actually was just there… no fancy powerpoint… no sales pitch… just to tell us about his story, where he came from, his successes and failures both in real estate and the infomercial business… and I walked away with a TOTALLY different perspective of who Dean Graziosi is.
Again… to me Dean Graziosi was the guy who sold "how to make money buying, fixing, and selling used cars" on TV for a short time… then moved to real estate… so to me, he seemed like a marketer out there just hocking a real estate product.
What I learned about Dean Graziosi… his story (it definitely changed my mind a bit)
Okay, this is stuff that not many people know and I think you'll appreciate hearing it.
When Dean was talking to us (really personable and charismatic guy in person… comes across as a very genuine dude) he walked us through his story in life.  When he was (don't quote me here) in high school… Dean said that he started finding used cars that needed some TLC, doing some minor fixing/cleaning, then he would go and sell the cars for a small profit here and there. Sometimes a few hundred bucks… sometimes a few thousand bucks a pop.  Then, he got pretty darn good at it and created a solid cashflow from that little "fix and flip" used car gig.
But, this is where it kind of got exciting for me…
… from there Dean took the cash he was making doing the car biz… and funneled those profits into real estate deals.
I don't specifically remember anything about what his first deals were or anything… I'm pretty sure he told us about it… but, basically… for years he was doing both the car biz and real estate as his full-time income creating a little money machine.
Cars –> Profit –> Real Estate –> Profit –> more real estate
That was his equation (I dumbed it down a bit… but thats essentially how he got his start).
Dean and the Infomercial biz (does that mean scam?)
So, just like many people do… once they do something well… get great results… they get inspired to put it "on paper" to train other people how they did it.  Heck, we did that with our sister companies Private Money Blueprint program and our free training here on TheREIBrain.com.  Teaching and giving back is fun as heck… but, there's no hiding it… is also very profitable when you do it right and have the right intentions.
Dean did that… but he of course went straight for the "big leagues" which is TV infomercials… and Dean has done very well in the training business.
So, this leads me to this…
Is Dean Still Actually Doing Deals Since He's Now A Big TV "Guru"?
When I sat down to research Dean Graziosi and his Rock Bottom Blueprint product for our REIBrain readers… I did a few things:
I got the product: Many times because of our sites influence and subscriber base… we can get access to programs for review. I got Deans product last week… and spent a couple days going through it all from start to finish.
Call and email people who I know have personally worked with Dean and who have personally bought other programs from him.  I have a buddy who is a full time investor up in Tacoma… he's done over 400 deals… and earlier this year he mentioned to me that he bought Deans latest book from TV… and he told me he was surprised and it was legit… and well worth what he paid for it.  Plus, I know 3 other people very well who have personally done work with Dean and I wanted to get their trusted opinion on Dean as a person and his ethics.
Look at the actual offer of the product being offered… is the Rock Bottom Blueprint a high value program for the investment? And is the guarantee solid so that if you feel it isn't right for you, you can with no hassle… return it under their clearly explained guidelines (i.e. – make sure there's no shenanigans going on).
On #3, of course… I can't 100% fully attest to first hand knowledge of the integrity of the guarantee of the product since I didn't buy it and try to return it… but, I base it on feedback I hear from people I trust who have experience with it.
Okay, so… after I did all of my due diligence… I had a hard time finding anything that made my "scam" alert go up… or really… anything even close to it.  Just like with anything when there are a lot of customers for something and it has anything to do with people actually having to work and do something to get results… I did find some complaints online. But, very few in comparison to the number of people who have bought his books on TV (I wouldn't be worried about those because they probably consist of 1/2 of 1% of all of his customers).
My 3 friends who I trust who have personally worked with Dean on projects say he's a stand up guy, runs his business right, and "does what he says"… none of them had anything bad at all to say about him.
And third, I reviewed the Rock Bottom Blueprint program (the online digital version, I don't have my physical course yet) and I feel its SOLID.
You can see the full video review of the online portion below… which is only a portion of the overall course… so you can see whats inside.
[UPDATE: REVIEW VIDEO AND NOTES WILL BE HERE OVER THE WEEKEND.]
My Final Thoughts and Review On Dean Graziosi and The Rock Bottom Blueprint program
First of all, when I make a recommendation on a program (whether positive or negative) please understand that it is all subjective.  I don't know the position you're in financially, I don't know where you are in your real estate investing business or what you truly need to get to the next phase in your business, I don't know if Deans teaching style is what resonates with you.  All I can review is based on my own feelings and whether I feel the program hits these criteria:
Is the person behind the product reputable based on info people I trust and know give me?
Is the support behind the program good? Of course, some companies have stellar support… others are just good… others are terrible.  I just want to know if a customer has a question or wants to return the program… will they be taken care of in a timely manner.
Is the program high value? i.e. – If you apply the training as it is given… will it return you many multiples in profits of what you paid for the program (the important part to note is "apply the training"… most people looking to be a real estate investor forget it takes work and no program will truly "do the work" for you).
Is the program up to date and does it over-deliver on its promise?
Thats what I look for.  From there, its up to the customer to put in the work to break open the training, follow the instructions, stay motivated, and get out there and change their lives.
Alrighty, my opinion on Rock Bottom Blueprint.
The Pros:
The free "pre-launch" content is very inspiring and is worth the time to watch them.  Will you learn everything you need to know from the free "pre-launch" stuff? No. But it is solid for the price you pay 😉
The online portion of the program is really broken down well and gives you great direction on where to start and it starts where I truly feel is the most important place… the foundation and mindset stuff (Dean has a great take on this I haven't heard before. This alone could change your life)
I love the online mentors where you can choose between 4 mentors to teach you each week. They are successful students of Deans… and you can choose the ones that you resonate the best with… and train with them each week on teleseminars, etc.. Great idea… I wish I had thought of it myself 🙂
Both video and written training… so if you love learning on video… Dean has some of the best put together (and professional) training videos I've seen… he has a great teaching style that I really like.
Includes "cut and paste" marketing materials, both online and offline… which is really cool. I glanced over them and I got some great ideas just from the door hanger and a few other templates.  The really cool thing is that this isn't just marketing materials that Dean threw together so he could make a course out of it. Its actually the exact marketing that 7 of his most successful students current use in their businesses (he even gives you the names of his students… so you can check them out to see if they're legit if you really wanted to).
It has an entire training area on building your team. I wish I would have known the importance of "not doing it myself" a few years ago in my separate businesses… this part of the training is solid. It breaks down how to go after your "dream" team members in each category (reator, birddogs, rehabber, attorney, banker, etc.)
As I dug through the course, I saw pretty quickly something I really like… its

not just about real estate strategies

.  It also really focuses on making sure you build a real estate company that fits you, that fits into your life and goals, and that you can manage. Most courses try to teach a "one size fits all" approach… when I personally (from first hand experience) know thats not what really works.  They also dive into the actual business side of things in good detail so you can manage the business well from the start. I likey 🙂
It has an entire training section on cash flow properties. Since that is the only kind of property I own (other than my personal house) I can really relate to this section… and knowing cashflow properties inside and out myself… I can say this training teaches everything I would have needed to know to get my first deal before i got started.
Now, I can't personally verify this first hand… but, Dean says he has done over 50 deals himself (his company) in the last two months… so, this is coming from an active investor and it seems like his students who also help teach parts of this program are active as well. But, do your own due diligence if that is important to you.
The Cons:
There isn't a ton of info on deal funding or private money.  This isn't a huge deal because there are other resources on this… but I would have liked to see a bigger focus on deal funding strategies and resources.
I'm not big on big TV infomercial "gurus"… even though some of them are probably great guys… it just seems like they get out of touch w/ the real estate market.  But, I think this is probably something I just need to get over… and from every indication and my own due diligence… Dean Graziosi is the real deal and is still investing along side his real estate training company.
Its not cheap.  The program isn't cheap at all… but its less than I've paid for trainings in the past that werent' anywhere as good.  So, if you're on your last dollar or are going paycheck to paycheck… DON'T buy this program.  Here's a link to go download his 2 books that he sells on TV… for FREE.  If you don't have the financial means to invest in his Rock Bottom Blueprint… please just grab the free stuff first and then when you're ready you can always invest in a larger system later. Deal?
I couldn't say that this program is really "new" or that there isn't similar information in any other courses.  There are some very unique insights that Dean shares in the course, I love "The Edge" program that comes as a bonus (this is stellar), etc… but the main reason for choosing to invest in Dean Graziosi's Rock Bottom Blueprint program versus someone elses is that you enjoy his teaching style, feel you can trust him, and want to learn from him and his successful students.  Which really goes a long way… the worst thing you can do is invest in a program that doesn't fit your style of learning.  If you liked the pre-launch videos you'll love the home study program 100x more.
Thats about it.
Again, my overall recommendation and review of Dean Graziosis Rock Bottom Blueprint is that its a solid program that I feel is well worth the investment if you can afford it… from everything I can see from my due diligence, they have great customer support… and Dean truly does have the best interests in mind for his customers.
So, if I were to grade the Rock Bottom Blueprint on a scale of 1  – 5 with 5 being (the best course ever in the history of the world! 😉 I'd say its a solid 4 or 4.5 based on the content, the way its delivered in a simple to follow but comprehensive and applicable way, and the support behind the product.
Here is the link to check out the currently underway Rock Bottom Blueprint launch free videos <<
Bonuses For Rock Bottom Blueprint
I like to provide extra value for our REIbrain readers to make sure that when you invest in a program that we recommend… that you get everything you need to be successful with that program.
As I mentioned above, the main missings element that I found with the Rock Bottom Blueprint program are:
It

doesn't delve extremely deeply into private money or getting funding

for the deals (although it does go into it a bit)
It could go into setting up your business and your goals/mindset a bit more (or show another way of doing it so you can find what fits you best).
So, to help tie up those loose ends for you… if you feel that Dean Graziosi's Rock Bottom Blueprint is a program that:
you can immediately implement
you can apply the week you get it
can help you get over the current roadblocks that you're facing RIGHT NOW
you feel you resonate well with and that you love the teaching style of
… and that you can afford (i.e. – that you're not on your last dime and you won't be missing rent payments just to buy this course. If thats you, again… please go grab the link to download his real estate books and audios that he sells on TV for free… start there)
… then I'd like to throw in the 2 bonuses below that have a real value (this is what they sell for every day) of $1,097 .
BONUS#1: The full Private Money Blueprint home action system and lifetime online Private Money Monthly access. The Private Money Blueprint is perhaps the most comprehensive program on "getting the money' on the market today… and is taught by my friend and business partner Patrick Riddle (he's done over 130 deals and he just turned 30) who is one of the best teachers and investors I know (and is a great guy too)… its the only resource you'll need to show you how to find private lenders in your area to fund your deals with THEIR money. This program is a full home study course and online members area and sells every day for $997. Here's the information page for the Private Money Blueprint program to check it out <<
BONUS #2: Our sister companies new program Certified Strategic Investor which is a 6 module online program that walks you through the most important aspects of setting up your real estate business correctly, getting the right mindset that will help you finally be successful, and create your systems in your real estate business so you can work less… and leverage your time. This program sells for $97 every day… you'll get lifetime access for free.  Here's the link to check out the information page on it <<
Together those bonuses will really tie up the loose ends I feel Dean Graziosi's Rock Bottom Blueprint leaves open.
HOW TO GET THE BONUSES:
Alrighty, since we have a good deal of subscribers and we're a trusted resource for our community… we're able to join "affiliate" programs for products and receive referral commissions on orders that we refer.  We don't take this responsibility lightly and if we feel a product is not top notch… we won't recommend it.  I really do feel that this program will be right for a lot of people… but, it will also be wrong for a good bit of people too.   So, you just need to decide if this program is right for you based on what you've found.
If you find it is right for you… use the links on this page to go to the Rock Bottom Blueprint page (our affiliate referral links) to purchase the program.  When you do, Dean's fancy dancy software will track that you clicked our link and tag that referral to us.
NOTE: Make sure if you want our bonuses, that you click our links on this page to actually make the purchase. If you click someone elses link right before you buy you'll be tagged to them and won't be eligible for our bonuses.
After you've bought through our links, email us your receipt to the contact form on our site… and we'll put you on the list for the bonuses. Then, we'll get a list of buyers from Deans company in a few weeks and confirm that you were tagged to us.  Once we confirm that… we'll get you bonus #2 asap so you can dive into that.
Then, after the return period for Rock Bottom Blueprint is up and you keep the program… we'll send out the full Private Money Blueprint system bonus #1 to your doorstep.
Cool? That way, when you buy the program through our site we're essentially sharing the commissions that we earn with you in the form of an extra $1,097 in training that we feel really fills the gaps of the RockBottom Blueprint program so you can hit the ground running and you won't need any other programs to get your first several deals done.
Alrighty, here's our referral link below. Use it to check out the free training videos Dean has put up… and when the product goes on sale next week… use this link to purchase the program if you feel its right for you.
I hope you found some value in our Dean Graziosi review and if you still have questions go ahead and leave a comment below!  Again, I can't speak for everyone in this review… this is my personal experience and subjective opinion on the program… I hope it helps you make the decision on whether this program can help you change your life and do bigger things in life and biz.
Have a great week!
– Trevor