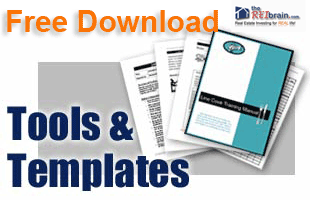 Marketing materials come in all shapes and sizes with plenty of different designs. An effective and cost-efficient way to market your business services is by using a printed postcard.
Before you visit a printer and just have them throw copy onto a postcard, visit the post office and get the official postcard size. There might even be restrictions on what type of paper you can use to print them. A knowledgeable printer should know this info but when in doubt, always go to the source.
Our sample postcard has a TON of info on it and it's really a matter of personal taste if you want your real estate marketing postcard to be cluttered with info. There are 2 schools of thought on this. First, you want the possible customer to have as much info as possible so they'll have no choice but to call you, regardless if the postcard looks crowded.
The second school of thought says you should put just the most important bullet points on the card and fill in the client when they do call your number. If in doubt, you can do a split test and track your results.
As always, our attorneys make us say it… these forms are for reference only and you should always pass any forms you use for your business by a competent attorney in your local area to make sure they jive with all state, federal, and local law.
Download free Real Estate Marketing Postcard
Download Instructions:
Right click on the download link below
Click "Save As" or "Save Target As"
Save it to your computer
You must be a member to download.
If already a member you can login at the top of the blog.
If not yet a member you can go here to Join for free.
[download#97#image]
Go ahead and download the free Real Estate Marketing Postcard template above and return the favor… tell us what's been working for you in your market! Just post a comment below or shoot us a message through our contact page anytime letting us know about your successful marketing piece.
Remember to subscribe to our RSS feeds and our newsletter to make sure you don't miss out on any new updates for real estate investing marketing pieces, checklists, tools, resources… and other great stuff that will help you get an edge in today's real estate market. No… serious… click on through and subscribe … it's FREE!